Having prepared ourselves quite readily for our trip, it was nice to be able to take off for a few days to go camping with our friends Nick and Monica.
Nick & Monica
Our destination was just north of Squamish, Cheakamus actually, which has several nice climbing walls. We drove up after work on Thursday and managed to set up our tent just before it got dark. Part of our "plan" was to only utilize items that we would be taking with us to France for camping. This actually worked out quite well and has allowed us to continue to tweak our equipment selection before we leave.
Nick and Monica are avid climbers, and so on Friday, Amanda and I rented some climbing shoes and gave it our best effort. The results were a few 5.8s and a 5.9. Nick managed a personal best by lead climbing a 5.10d, grats Nick!!!
"Is this high enough? Can I stop now?"
Whatever you dou, don't look down!
View of the nearby Tantalus Range
After climbing, we sat and enjoyed a raging campfire and gazed at a few stars that peeked through the clouds. Somehow it need up being midnight before everyone retired for bed.
We awoke on Saturday ready to ride bikes and drove to nearby Squamish. After filling up on Tim Horton's for breakfast, we drove up to Quest University to hit some of our favorite trails. While getting our gear on, we struck up a conversation with Joe, from Washington State, who had just spent two days in Whistler and was a Squamish virgin. Joe was happy to tag along with us as we rode Angry Midget, Half-Nelson and Pseudo-Tsuga.
Amanda on Half-Nelson; she was smiling all day
Here Joe shows us how it's done where he comes from.
Along the way we picked up another straggler, Philip, who moved to Squamish for the summer, from Switzerland. Unfortunately, due to the Canada Post strike, his bikes still hadn't arrived; so he was riding a rental bike. That didn't stop him from hitting this huge jump!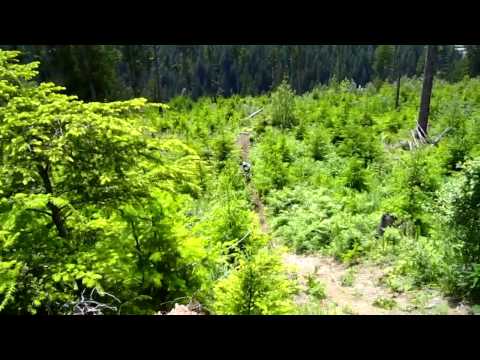 YouTube Video
It was a lot of fun riding with Philip and Joe. After the ride, Amanda and I headed back to camp, smelling like roses I'm sure. It started raining but that didn't dampen our spirits, and everyone gorged themselves on hotdogs and s'mores in front of the fire.
The rain continued all night, and somehow the water found a way into the tent. We think we know how / why and will be able to prevent this from happening on our trip. We packed up on Sunday morning and headed back into town. While Amanda cleaned up, I hooked up with Dr. Huck and Joe, and we did a few laps on Mt. Seymour. I took a small spill, but it was enough to scare me into not wanting to ride at all this week; it would suck to break something this close to our tour! It was fun showing Joe around Seymour as he had never been. Hopefully he comes back in August and we can ride some more!