Andrew writes:
Another day of sightseeing with Nawal and Emmauel, and our last day in Paris. We met up at 1100hrs as planned and then went to a boulanger for breakfast and coffee. Afterwards, we went to Pere Lechaise Cemeterie. This is the most famous cemetery in Paris. We had tried to visit yesterday, but it was closing when we got there.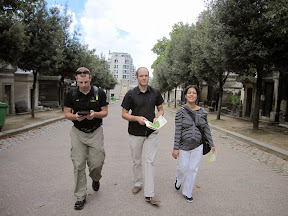 Having the guide book on our kindle certainly made the trip worthwhile. Emmanuel would also point at tombs randomly and exclaim, "A great French poet!" etc.
Jim Morrison of the Doors.
A rather interesting tomb.
Tombs in the cemetery come in all shapes and sizes. Some are just simple grave markers, while others are the size of a church. There are 70,000 buried here.
Oscar Wildes grave. Mourned by outcast men.
Stained glass window inside a small chapel / tomb.
Sooooo much walking. After the cemetery, we grabbed lunch at Jardine du la Roquette. This garden / park was used as a women's prison in WWII but is now free for all to use.
No room for bird houses in Paris, only apartments.
Photos in Jardine du la Roquette
After lunch we hopped on the Metro and went to walk up the Left Bank. Emmanuel and I made a bet that there was a bridge used by lovers to put padlocks on. He claims that it was Pont Des Artesian, and I said there was another bridge. I still say that I am right, but allowed the Frenchman to think he was correct. It is easier that way sometimes.
The padlocks on Pont L'Archejeche.
A boat ignored a buoy and ran aground on the Seine. Here, Pompiers (firemen) rescue the people on the boat. We watched for about 45 minutes while they tried to move the boat.
Our walk also took us through Luxembourg Gardens which was abuzz with weekend activity. Finally it was Happy Hour! Amanda and I raced across town on bikes back to our favorite bar, while the French took the Metro. We won. Sometimes it is TOO easy racing against pregnant women.
Emmanuel and Nawal had a 930pm train, so we walked them to the train station. It was hard to say goodbye. We'll miss you and hope to see you again soon!!!
The last item for the day was a river cruise on the Seine. You may recall that we had missed the boat by 1min on Friday. We were plenty early for the boat tonight, except it started to piss rain.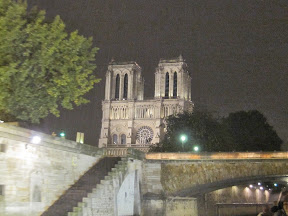 As true Vancouverites, we refused to be subdued, and spent the entire 1-hour cruise on the top deck, enjoying the sights and lights of Paris.
Amanda writes:
I enjoyed our last full day in Paris very much. Mostly the company of Emmanuel and Nawal. France has been good to us but more than anything I cherish the friendship we have built with them. Seeing them off at the train station was very hard. I shed a few tears but trust that even though there are thousands of miles between us, we will maintain our friendship.
Nawal and I are going to try and Skype each other and talk half the time in English and half in French. I look forward to seeing them again in any County in the world to ride bikes and listen to Emmanuel and Andrew make silly bets and correct each others grammar.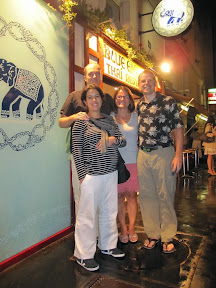 – Posted using BlogPress from my iPad
Location:Paris, France