Thursday July 14, 2011
Brussels, Belgium – Nancy, France
Six and a half hour train ride
Three countries visited today (Belgium, Luxembourg, France)
7.2 km cycling distance
44:27 in the saddle
Amanda writes:
We left the hotel in Diegem armed with clean and dry gear. We rode to the train station and took the local train to the Brussels-Midi station. It was much nicer than the Brussels-Central station we went to last night. Bought tickets to Nancy and some Belgium chocolate.
In the train station with our bikes in Brussels.
I got my first taste of attitude regarding my inability to speak French very well. This is the first city/town where French is exclusively spoken. I will study French on the train.
Train ride was nice. We had a transfer in Metzville. The train was delayed in Luxembourg which was too bad because we missed our connection which was supposed to be on a TGV train. We took the next train which still got us to Nancy, just a bit slower. Nancy was a nice town. We bought a very detailed map of France. 600 pages! I will carry the book which is a small feat so that I can have more awareness of our route.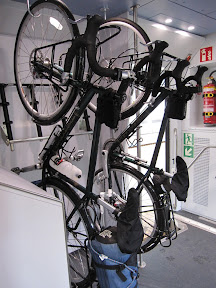 This is how the bikes are stored on the train.
We went to a very nice campground after buying some breakfast items. At camp we met our first touring cyclists. A nice couple from Tokyo, Japan. They were touring Amsterdam to Budapest – living the dream.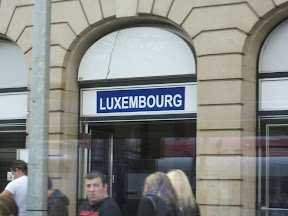 Our arrival in Luxembourg.
We leaned in speaking with them that they had no maps and did not know how to use their GPS. We were mapping our route to Dijon and helped them map theirs too. Then they caught on to the fact that Andrew is pretty good with computers and electronics. Yoshiko and I went to sleep and Andrew and Katashi stayed up and mapped their trip to Budapest over snacks and a bottle of wine. Andrew taught him how to use his GPS and loaded the route onto the device for him. We hope they are able to use it now and look forward to hearing from them.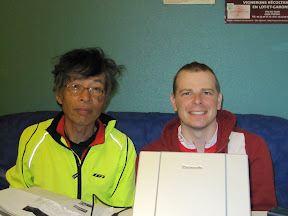 Katashi and Andrew planning routes.
It was a beautiful clear night with a full moon and the stars. We could hear the fireworks in town to celebrate France's version of Canada day. The big dipper looks just the same on this side of the planet.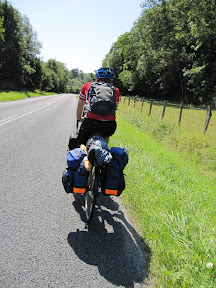 Notice the loaf of bread on the pannier. Every day we have one on the bikes until lunch.
Andrew enjoying another seven euro lunch of bread, meat and cheese.
Andrew writes:
Once again I am impressed with the European rail system. Even though we missed our train connection, there was another train shortly thereafter (albeit 3x slower). I was quite happy that I was able to understand, and to make myself understood to the French people we talk to. I guess I owe Mme. Bruton a thanks for her teaching back in grade 8/9.
All in all today was an easy day, quite restful. I found it shocking that our new friends from Japan have no maps, and no French, but I admire their courage to be such intrepid explorers.
Our first good hill climb out of Nancy.
– Posted using BlogPress from my iPad