Thursday July 21, 2011
Meyneu les Etangs to Belmont (suburban Grenoble)
107 km
6:23 in the saddle
Amanda writes:
Today started at camp with a short ride into the village for some breakfast.
The riding today was quite simple and the weather was a bit better. We stopped for lunch around 1:00 and watched some of the tour as we knew it was the start of the mountains.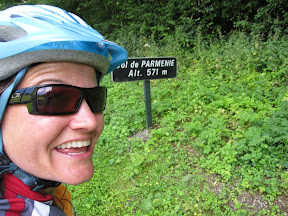 Our first big climb of the trip.
We then rode again with the goal of being somewhere to watch the finish. We made it to Grenoble in time to catch the race. What a great vibe in town as the tour was in this area the next two days. It was cool that most people were here for the same reason as us.
Crossing the bridge into Grenoble. This is what I saw:
We watched the tour and then hopped on our bikes to ride to more friends of Emmanuel's that were hosting us; we are SOOOO lucky.
Emmanuel mentioned a hill to their house. Well with this hill being the Alps region and me not having food or water it was awful. I had such a hard time and was absolutely drained and more scared than ever for tomorrow. The guys had fun racing some roadies. Apparently they kicked their asses up the climb with their luggage; way to go boys!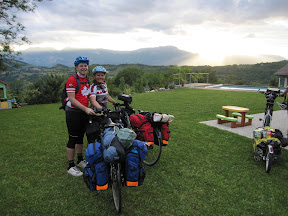 I later learned the climbs I was doing was the course of the time trials which is pretty cool. Made it an easier thing to handle. We arrived to a beautiful home with an incredible view of the Alps and a terrific family of hosts. We were treated to a wonderful dinner and a quick trip to Vizille to enjoy fireworks and a celebration of the French revolution. Very cool. We were only able to go to bed at one am as a result which was not ideal with the climb tomorrow but worth the experience.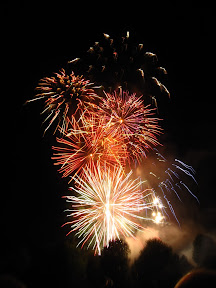 Andrews writes:
We woke up and the sun was shining, and the children were fast asleep. We quickly broke camp and headed to the nearest boulangerie for breakfst. I have noticed that french people don't eat a lot for breakfast. For instance, Amanda and I each had a small personal pizza and apple Danish for breaky. Emmanuel had a muffin? We then sat on a terasse and ate, while browsing a paper.
Its a good thing that our plans had changed and we weren't going to be on the Col de Galibier. The weather looks a little iffy.
We set out and the first bit involved a lot of climbing. I would guesstimate that the first 45 km was mostly uphill. Emmanuel got cranky from not eating enough breakfast so we stopped for lunch at a bar in some backwater. We had arrived near the end of the lunch period, so all they could make was a cold salad…oh and a small plate of pasta. Wow! Was it ever good! The salad had bacon, corn, tomatoes, greens etc. And was truly gourmet. Then there was a gigantic bowl of spaghetti bolognase!
After lunch, we mainly followed a canal for the rest of the ride into Grenoble. Emmanuel and I rode along at 30km/h, chatting about WW2, while Amanda took pictures.
Upon reaching Grenoble, we found a bar and sat for an hour drinking beer and chatting with all of the people from all over, including Quebec, who had come to watch the Tour.
After this, it was a little confusing getting out of town, but we managed. Just outside of Grenoble was a pretty serious hill. Just as we started, a group of 3 riders passed us, and I hung back with Amanda while Manu took off. I am not sure what came over me but I took chase and after 2minutes had bridged the gap to the Frenchman. Over the next 19 minutes, we gained on the group of 3riders in front of us. One of them seemed confused/angry as we passed by with all of our bags, trailers etc. When we reached the top of the hill, it was high fives all around.
At this point, Manu thought there was a shortcut to get to where we were going. We rode down a steep hill into the town of Valnaueys le Haut. The. He realized that it wasn't a shortcut after all, so we climbed another hill to get out. Finally, we rode into Belmont which is a) at the top of a hill and b) part of the time trials course for Saturdays stage. We were riding the same hills as the pros! There were caravans already parked on the side of the road, and people setting up tents.
The rest of the night is a bit of a blur. We were staying with friends of Emmanuel; Julien & Selena. We went into Vizille to watch the fireworks and when we got home at 2300hrs, we had dinner. While it was quite late, we hadn't eaten anything since lunchtime and were starved. It was 1am before I got to sleep, and we were getting and early start to the Alpe D Huez.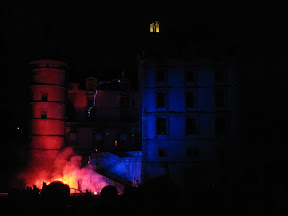 – Posted using BlogPress from my iPad
Location:Meyneu les Etangs to Belmont