Andrew writes:
Jet lag struck again last night. We were exhausted from riding all day so fell asleep quite quickly when we called it a night at 2200hrs. Did you know the big church in Gouda can be heard from the campsite 5pm away and it chimes every hour. The 0200 bells woke us up and we weren't able to get back to sleep until 0400. This resulted in us sleeping in until 0830 and we weren't packed and on the road until almost 1000.
So we bought a map book. It isn't very good, but it does help us determine what towns we should be looking for on the bike route markers. On our way from the campsite back into Gouda today for breakfast, we stumbled upon an LF2 sign – awesome!
After breakfast we purchased some groceries for lunch and then set out in search of the LF2. Sadly, the signs directed us to a construction site. Oh well, if we keep riding south eventually we will reach Paris.
Actually, by heading S-SW most of the day, we were able to track the LF2 quite closely. We lost it coming over a bridge in Dordrecht and decided to head to McDonalds to use the WiFi. This was found in downtown Dordrecht which also had a T-mobile store. Despite the process taking about an hour, we now have portable inter webs on the iPad, yay! I won't be able to post many pictures until we hit another WiFi spot.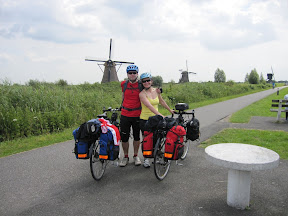 Riding randomly around Dordrecht, we again came across signs for the LF2. From here on out the riding was pretty straightforward. I had hoped to make it as far as Roosendal today, but we lost a lot of riding time farting around over the course of the day. No big deal, we aren't in a rush, right? I am still trying to get Amanda onboard with riding where the wind takes us.
Amanda cooked a wonderful camp dinner tonight, including a lovely $2 bottle of wine. She's the best.
Amanda writes:
Distance: 95.3 km, 5:07 in the saddle
Food: Breakfast at bakery in Gouda, lunch on walkway in Rotterdam with sandwiches made from grocery store ingredients, dinner at campsite.
Money spent on food: Breakfast 5 euro, lunch 7 euro, dinner 10 euro.
Slept better than the night before but still woke before three am. I managed to fall asleep after 4am. I knew what time it was as I could here the church bells ring. At the top of the hour they ring the number of times to represent the time. Three rings for 3am. At the half hour they ring once. After going to the washroom and being scared by the rabbits in the field, we slept until 8:30. That is later than I had hoped to start. People get moving here much later in the day than at home. I could get used to that.
Today we had loads of success with the LF2 bike route. Aside from one hiccup with some construction we just followed our instincts. Even through signs turned the wrong way likely by some kids having fun. It certainly became apparent that yesterday we definitely lost the LF2 route. The ride was lovely. Sunny and not too hot although Andrew did suffer a burn.
The bike routes here are incredible. I love that most people here ride bikes, regardless of age. We are rarely on a bike route alone. Endless km of bike lanes through farm fields.
While Andrew was getting a SIM card for the iPad I enjoyed watching the locals in Dordrecht. I noticed you don't need to understand the language to know what's going on. Being in shit for a kid looks just the same, just different words. Laughter and walking hand in hand with a casual kiss looks like being in love regardless of the sentences being strung together. Language isn't such a barrier. I also noticed many young women (teens or early twenties) with their Mothers holding hands as they walk. It is a very endearing thing and not common at home.
We stopped at a bar in Willemsdorp to refuel with a beer. It was a much needed short break. After we had some nut mix that I bought that proved to be a great little snack. We learned that our bento boxes can be very useful for snacks. We will definitely be buying more snacks and using the bento box. They hit the spot.
We rode to a campground about one hour after beer and Andrew set up camp and I made dinner with food bought from the grocery store. Total meal cost was ten dollars which included wine – yahoo! We tried to be sure we ate lots so we are fueled for tomorrow. It was a good day.
Good night.
– Posted using BlogPress from my iPad
Location:Camp Mardal, near Roosendal, NL.