Andrew writes:
Jet lag – what a wonderful thing! Amanda and I passed out from exhaustion and inebriation about 8pm on Saturday night and there we were wide awake at 1am. We organized our things for the next day and watched some TV to pass the time. We both fell asleep at about 6am.
When we awoke it was 1030 and the hotel buffet was threatening to close. While Amanda ate her breaky, I surreptitiously navigated my way around the buffet hoarding things in my pockets that I knew would come in handy down the road; like peanut butter. Finally 1200hrs we were on the road, ready to go!
The Netherlands has lots and lots of marked bicycle routes. Some of these are long-distance routes like the one we had chosen from Amsterdam to Belgium. Since we don't have any maps whatsoever, all we have to do is follow the small white and green "LF2" signs. That worked thru most of Amsterdam but then we got lost; perhaps lost is a exaggeration. You see, when you don't really have a destination in mind when you set out, can you ever really say that you are lost? Looking back now, I think I know where we took a "wrong" turn, but when it was all said and done, we saw a lot of beautiful countryside today.
We rolled through some pretty cool towns and villages, and there were hundreds of cyclists riding here and there, young and old, it was such a wonderful thing to witness. There was a cool cathedral and castle (with a moat!) in Woerden, and then shortly before 5pm we rolled into Gouda. There were church bells ringing from the middle of town, so Amanda and I rode the narrow cobblestone streets to a gigantic cathedral that was ringing it's bells non-stop.
All around us people on bicycles were screeching to a stop, wearing their Sunday best, all ready for the evening mass. Curious, Amanda and I also parked our bikes (not many bother to lock their bikes) and went inside. The interior of the church (Church of St. John) was impressive. There were about a dozen windows with 40+ stained glass tiles. There was even a telescope you could use to see the detail of the artist. The organ stood about 60 feet tall. The pews were arranged so that they all faced one another, as well as the pulpit which was in the middle of the room. As we walked around the activity, you couldn't help but notice the engraved tombstones underfoot. One. That caught my eye was circa 1663, though there were many that had worn away over time.
Exciting the cathedral, we walked around the corner into the city square. It literally was a giant square lined with shops and restaurants, and there was another old gothic building the Stadhuis (City Hall) in the middle. Despite the old look of the town, it was heartening to see a Subway and McDonalds close by. For dinner I think we chose the most expensive cafe as it was the least populated.
After asking around and using the free WiFi at McD's, we determined that the closest campsite was actually back the way. We had come. It wasn't far, so we rode to the campsite, showered, did laundry, threw our frisbee around, and relaxed. Truth be told, I was knackered. Between the plane and the jet lag, I felt like I had the flu. Hopefully I will feel better tomorrow.
Amanda writes:
Distance: 73.5 km – 4:03 in the saddle
Food: breakfast, buffet at hotel; lunch, sandwiches made from buffet at breakfast; dinner, restaurant in Gouda
Money spent on food: breakfast 35 euros, dinner 30 euros
Leaving Amsterdam was pretty easy. We tried to follow the LF2 bike route but seemed to loose it pretty quickly. The designated bike routes are nice, but can be hard to follow. We bought a map at a gas station and it helped a little. After an hour or so we just went with the motto, go south. Any bike route that went south, we'd take it. The designated bike routes are truly amazing. We ended up landing in Gouda. We saw it on our map and figured we just got to, it's Gouda!
As we pulled into this quaint town the church bells were ringing and echoing through town. We followed the sound and were drawn to this beautiful church. It was like everyone in town was rushing to church. People on foot and bikes arrived in masses, for mass as it turned out. We decided to pop in. What an incredible church. An organ playing like I had never seen or heard before. Pipes on the organ stood two stories high. Stained glass on every window with such intricate detail they had a telescope set up to see it. There were tombstones in the floor dating back to 1666. We may have stayed for mass but stood out a bit in our spandex; that and not speaking the language were a bit of an issue.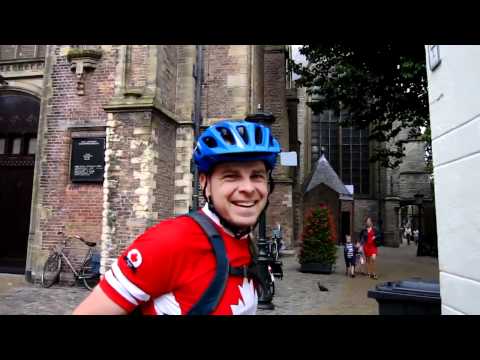 YouTube Video
We had a light meal at a little cafe in the centre of town. We then headed out to find camping. We liked Gouda a lot and decided we would return in the morning for breakfast at the bakery and to use the wifi to map our route.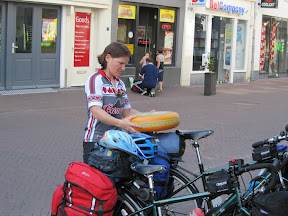 – Posted using BlogPress from my iPad
Location:Kleiweg,Gouda,Netherlands