Tuesday July 19, 2011
Chalon to Macon
Mileage 74.5 km
3:54 in the saddle
Amanda writes:
The day started with a nice breakfast at the B&B. it was raining quite a bit when we got up but let up when we got on our bikes. The riding was pretty easy today. Quite flat and a nice designated bike route. It is a route that used to be railway tracks.
We stopped at the Chateau de Cormatin which as in amazing castle from many centuries ago. We enjoyed a guided tour and then pedaled again. We then stopped into another historic town, Cluny.
Chateau Cromatin, once home to the Marquis of Huxelles.
Tonight we will stay with friends of Emmanuel and Nawal in Macon. It is very nice of them to host us. Tomorrow we will begin our difficult journey to the Alp D'Huez. Difficult not only because we have very little time to get there, but also because it is so high. I hope I can find the strength to do it.
Cluny, once the largest church in Christendom.
Now I am writing four hours after the previous paragraphs. We just enjoyed another magnificent evening of French cuisine, wine, company, champagne, cheese, wine, whiskey and more wonderful international conversations. We are so lucky that Emmanuel and Nawal have invited us into the homes of their friends. And even more lucky to have them welcoming us and hosting us as a special occasion. At this moment it doesn't matter if I can climb the alps as the experience of the French people are wonderful.
Simon & Manu, Andrew & Amanda, Emmanuel & Nawal.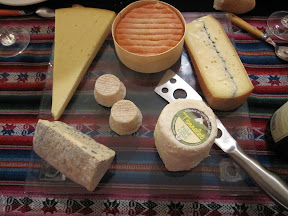 Goats cheese x2, some cheese that smelled of sneakers and tastes like heaven, and some in between.
Andrew writes:
Today was fun. The riding was n an old rail bed which went on for hours. As it was flat, our average speed in the morning was around 20 km/h. Apparently the vines grow from Dijon in the north to Lyon in the south. So more grapes today.
Stopping at the chateau Cromatin was a great idea. Even though the tour was in French, we had English text to follow along. It was a great learning experience and served to remind us that maybe things are better now than they once were.
Running through the hedge maze.
Amanda was a real trooper today since she has caught my cold. She sneezes and wheezes but never complains.
After the chateau we rode through Cluny which was once a gigantic church maybe 2 football fields long and wide. Sad to see it in the state it is now for such a historic monument.
I am standing in the middle of the church. The front door was up the stairs where you see the arches in the back. What are now shops and apartments used to all be under one roof.
Back on the bIke path the horrible headwind we had been fighting all day suddenly switched to our favour. Our speed went from 25 to 35km/h and the riding was quite fun. Hills because me quite easy as well. There was also the excitement of the Tunnel de Bois Clair. This used to be a railway tunnel but is now converted. It stretches on for 2km or so.
When we finally arrived in Macon, I watched the Tour de France on TV. Ryder Hesjedal came in 3rd today, behind his team mate Thor Hushovd. Atta boy! See you on Friday on the slopes of the Alpe d Huez!
Food and friends were on order for the evening and there was no shortage of either. They even let the Canadians supply the music, so I treated them to the Tragically Hip, The Script, Ibiza Sunset and U2. We had foie gras, wine, champagne, headcheese and tomatoes for an entree (appetizer) then we enjoyed a beef dish similar to roast beef with leeks, turnips, carrots, potatoes and Dijon mustard. Afterwards it was time for dessert which was several different kinds of superb "fromage". Finally for dessert we had apple torte tartare and some brandy. Oh, and more wine.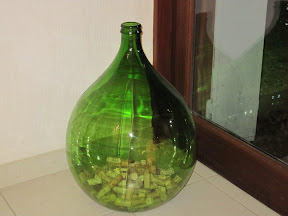 Posted using BlogPress from my iPad