Monday July ? – not really sure of the date these days.
Dijon to Chalon
86.3 km
4:34 in the saddle
Andrew writes:
Picture this if you will…you ride your bike at a leisurely pace through mile upon mile of the best Burgundy vineyards, stopping in a small town for an exquisite French feast, followed by an hour of touring a French monument (Hotel Dieu) and then afterwards you continue along a canal for another 20km before stopping for the night at a gorgeous chateau for bed & breakfast. Maybe you visit a nearby city for a once-in-a lifetime French culinary experience, some fine burgundy wine and great conversation with friends. That was our day today, one that will not soon be forgotten.
The chateau in the background was used by monks to create superb wine. Most of the wine produced in Burgundy is superb. All of the red wine is Pinot noir, and the white Chardonnay.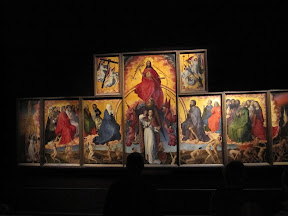 A beautiful polyptych as seen in the Hoel Dieu, the worlds first hospice/hospital for the poor, built originally in the 1500s.
Emmanuel planned five days of this. We would stop in Macon (60km) tomorrow after visiting some historical monuments, and repeat the meal, wine etc. Then we were to spend two days in Lyon before riding to Grenoble to watch the 2nd to last stage of the Tour de France while sitting on a swimming pool floatie with a beer in each hand.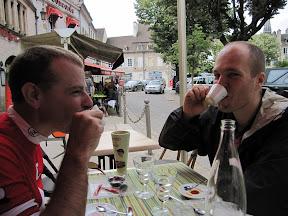 As it stands now, we will still visit Macon before making an all or nothing push (160km) for the Alpe d'Huez to watch Ryder Hesjedal climb the mountain. We face strong headwinds, steep climbs, and road closures. Amanda is determined, and I through her, to let nothing stand in our way in this endeavor. Emmanuel is also on board. It will be interesting to see if we can accomplish our goal. Wish us god speed and good luck!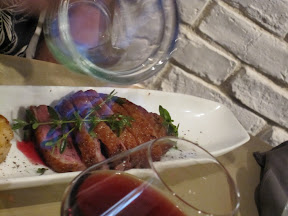 Duck, flambéed in absinthe, with fenouille. We had foie gras and escargot as apertifs, some wine from a village we passed through earlier in the day, and Amanda had this mammoth dessert of mango and chocolate mousse.
Amanda writes:
What a wonderful day. Beautiful scenery, wonderful company and great riding. We are so lucky to have Emmanuel and Nawal as friends. Emmanuel has taken a weeks vacation to show us his amazing country. The day was topped with fine French cuisine and a lesson in becoming a wine connoisseur. And now off to sleep in a beautiful Bed & Breakfast.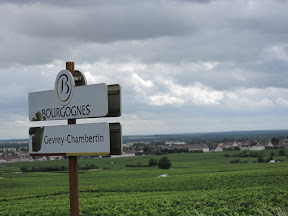 The region of wineries we were in.
Emmanuel and I riding with endless vineyards around us.
Andrew flashing his wonderful smile outside a museum.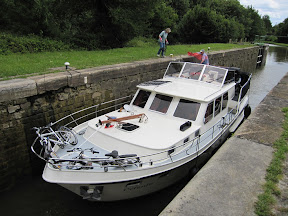 This is a boat in the canal that we road by for about thirty km. This couple left Holland two months ago. They are touring Europe through the canal system. And I thought cycling was slow.
Very exquisite presentation of my French cuisine.
– Posted using BlogPress from my iPad
Location:Chalon, France