Tuesday August 2, 2011
Amanda writes:
No more tracking mileage as we are now on rental bikes in Paris. We did our bike tour for four hours which was nice. I'm glad we did our own tour last night to orient ourselves with the City. The guided bike tour was nice because they really focused on showing you the smaller streets, tips and local type things.
Each bike had a name. I wish I had picked this one as it had the winner of the 2011 Tour de France on it!
Andrew listening to the tour guide on his bike Friday.
Amanda riding past the main entrance of the Louvre.
We came back to the hotel after for a nap and some rest.
The view from our bed at the hotel.
Andrew writes:
Starting to think that having to set an alarm clock should be outlawed for vacation. We had to be up and about for our bike tour this morning which started at 10am. So we woke up at 830. We headed to a market down the street and bought some yogurt and fresh fruit. Then we went to a cafe for croissant and coffee. For two coffees and croissants, it was €8.30!!!!! The fruit and yogurt were only €2. Oh well.
Then we hopped on Velib and rode back to the Notre Dame cathedral to meet up with our riding group. It was really nice being in such a small group, 7 of us plus our guide, Esme (www.bikeabouttours.com) We rode all over Paris and saw things like Jim Morrisons house, Victoe Hugos house, SpaceInvader graffiti, churches, museums, etc. We even stopped to take a break, and Amanda and I enjoyed chinese food and beer for lunch. Esme was quite knowledgeable about each of the sights we were looking at, and very helpful at answering questions. For €30, I highly recommend this tour.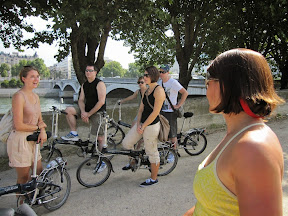 Esme telling us about something or other.
This house used to be owned by a priest.
The longest remaining section of a wall that went around Paris. Despite being 900yrs old, kids still use it for dodgeball.
In the garden of Hotel Sully.
A cedar tree grows on a cedar tree in a small back alley garden square.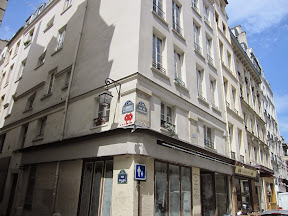 Example of space invader artwork. An anonymous artist has put thousands of these all over Paris.
Some narrow streets with some very nice cafes.
A rich English philanthropist donated hundreds of these fountains to the city. It is said that not only does the water taste better than the tap, but it will make you immortal.
Riding towards the Louvre museum.
Taxidermy shop, those are dead rats in the window.
Not part of the "official" tour, but maybe we can go back later.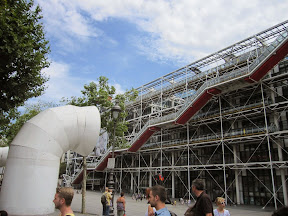 Paris' museum of modern art, Centre Georges Pompidou.
After the tour, we headed back to the hotel to make sweet, sweet love but ended up updating the blog and reading and napping instead.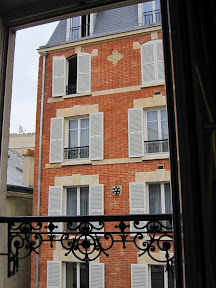 View from one of our hotel windows.
I wonder what tonight will bring?
– Posted using BlogPress from my iPad