Monday August 1, 2011
Toulouse to Paris
4.4 km of riding
27.18 in the saddle
Andrew writes:
Ungodly wakeup time today of 6am, in order to ensure we caught our 715am train. We made it with 35 mins to spare and had time for coffee and breakfast. We bumped into Kathy and Frank who were going to be on our train too.
We had a looooong train. Our bikes resided in car 16, while our seats were in car 6. To make matters worse, our seats faced backwards then the icing on the cake was the kid sitting behind us who was a typical kid on a train. Amanda and I ended up moving seats. We spent most of the 6 hour trip reading / napping.
Riveting French country views from the train.
When the train rolled into the ghetto in Paris, I thought for sure that we were getting off at the wrong stop. Turns out that it wasn't a long ride to get to our hotel, and the "heart" of Paris. On the way, we went through the craziest traffic circle ever. If it had lane markers it would be about 6 lanes. Since it didn't have lane markers, it was CHAOS!!!! We still managed to get to our hotel safely.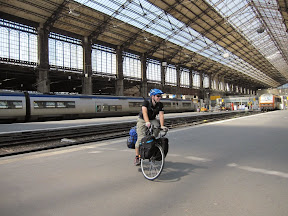 CHAOS in the train station.
It is on a pretty happening street with lots of cafes, bars, restaurants and stores. As Amanda and I ate lunch, there was some pretty good people watching to be done. Our first bill for lunch was €45. Food here is indeed as expensive as we had heard.
After lunch, Amanda and I did a 4hr walking tour out of one of our guidebooks that included the Notre Dame cathedral, Eglise St. Severin, left Bank, crypts of Paris, deportation monument, medieval Paris, palais du justice, Saint Chappelle, Conciergerie and Pont Neuf. We have also booked a bike tour for tomorrow and might cover some of these again, but it was nice to walk around and orient ourselves.
Bicycles are everywhere in Paris.
Outside Notre Dame.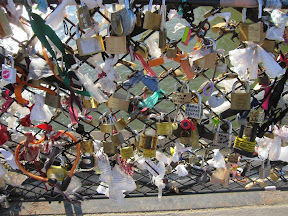 Padlocks on lovers bridge, connecting the Left Bank and Ile de la Cite.
Stained glass window inside Eglise Saint-Severin.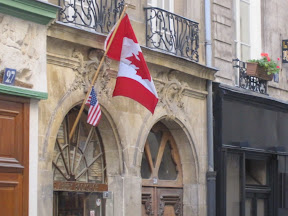 Bookstore in the Latin Quarter.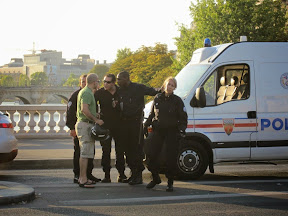 This guy on a scooter got into an argument with a female cyclist. He parked his scooter in the middle of the road and was yelling and making obscene gestures. The cops saw it all unfold and were just trying keep traffic moving. Asshat.
Saint-Chappelle, attached to the Palais du Justis.
Making out on Pont Neuf bridge at sunset.
To get back to the hotel, we tried the Parisian Velib system. A thousands of kiosks across the city you can rent a bike for €0-1 per hour and ride around. What sucked was that we got to our hotel and all of the kiosks around were already full with bikes. This meant backtracking or going out of our way to return the bikes. A interesting experiment. My butt hurts.
A fantastic day and I can't wait to see what Tuesday brings.
Amanda writes:
Arriving in Paris was a little anticlimactic as the train station is in an old part. The ride was quick and painless. I was so excited to be here. The night before I wanted to do so much research and do everything. I still felt that way when we arrived.
This art work (the Bastille) is in the middle of a traffic circle and is one of the first things we saw in Paris.
Our hotel room is huge! It must be at least twice as large as the one we had in Toulouse. That means we get to keep our bikes upstairs. The tour Andrew talked about was cool as we could view it on the Kindle.
Andrew standing in front of Notre Dame.
This star marks the official centre of France. All things are measured from this point.
The inside of Notre Dame is very powerful.
The stained glass is amazing.
So many views of Notre Dame are possible as it is so big.
We were quite tired on our return to the hotel at 11pm but it was great. The sunset was great. After being out in it for a few hours I like it a lot. It reminds me a lot of New York as everything is pretty condensed. Looking forward to the bike tour tomorrow.
Out first peak at the Eiffel tower.
A nice sunset from Pont Nuef on the Seine.
More cool glimpses of the sunset as we rode to our hotel.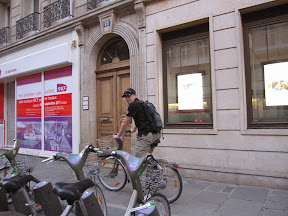 Andrew hopping on his bike that he will enjoy for the next week.
– Posted using BlogPress from my iPad
Location:Paris, France