Amanda's random thoughts and memories.
One of my great memories is riding on a stretch of road that was a fairly big climb. It was one of the days leading to the Alps so the hills were getting bigger. Andrew and Emmanuel were up further ahead so it was just me on my bike with my MP3 player. As I came up the hill I came across a herd of cows. A herd of cows is pretty common, but this group rocked! As I approached one of them lifted his head and looked at me. We locked eyes and he turned his head with enthusiasm in the direction I was headed. At the same time he turned his whole body in the direction I was heading and started to walk. Keep in mind most herds don't move when you go by. Then all the other cows walked with him. They actually ran for a bit, turned back to look at me and wait for me to catch up and then repeated. I know it sounds corny but I really think they were trying to help me up. It left me with a huge grin and a great memory.
This is what it's like to travel with two men. Andrew with his GPS and the local man from France.
The difference between 27 km/h and 30 km/h can become a 10 km/h difference. How? Well with a headwind on flat ground I can go a speed of about 20 km/h. If I can draft behind Andrew I can go about 27 km/h. If Andrew tries to speed up to 30 km/h and pull me along I can't seem to keep up. It was necessary for me to do some math for him to encourage him to refrain from pushing a bit harder to that 30 km/h level. It equates to me being able to stay in his slipstream or not. So if we were traveling 150 km in one day Andrew would get there in 5 hours at 30 km/h. The same 150 km would take me 7 1/2 hours. That equation helped my case.
Still have no idea what this sign means but saw it many times.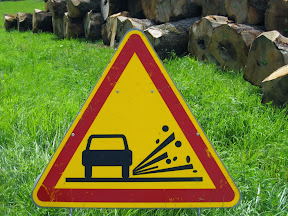 Why did the tires pop on the ride down the Alpe D'Huez for road riders? Well some of them have brake systems that have brake pads that squeeze the wheel. The tire sits on the wheel and depending on the kind of wheel you have, it can heat things up a lot. When your wheel gets hot, the tube and tire are sitting in it and they get so hot they burst. I had a few people ask me this question. Fortunately Andrew, Emmanuel and I have disc brakes and the braking system doesn't actually touch the wheel.
Cycling up the Alpe D'Huez is the best method. You can't see the smoke in this picture but this car that was trying to drive up lit on fire. I can only imagine the pandemonium on the way down with the RV's
In France water towers are called water castles. They kind of look like castles too.
– Posted using BlogPress from my iPad