Saturday July 30, 2011
Kim and Vaughan's Wedding Day
18.2 km
1:05 in the saddle
Amanda writes:
Today represented the reason/excuse for our trip to France. We camped at the Chateau where the wedding was being held. We woke up to gorgeous sun and road the few short kilometers to the small town for coffee. We read books and enjoyed coffee for over an hour. We then rode up the hill to visit our friends Nick and Monica who were staying at a B&B up the road.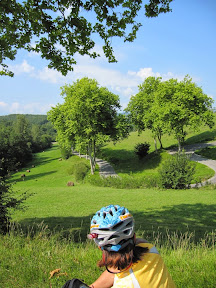 Some beautiful countryside riding today between the Chateau and the B&B.
At 9am these fellows were enjoying wine and beer at the cafe. We have learned that is not uncommon amongst local refugees in many communities.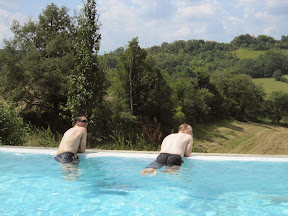 Nick and Andrew enjoying cooling off in the pool at the B&B.
Andrew and I enjoyed a lovely snack of cheese, bread and wine after the swim just before the wedding.
The wedding was gorgeous. The bride and groom threw an awesome party. It was awesome to meet so many cyclists! Kim and Vaughan have great friends and family and we are happy to have made so many new friends.
The bride and groom having fun.
Our good friends Nick and Monica.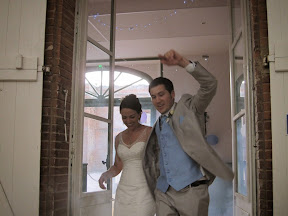 Kim and Vaughan's grand entrance into the reception.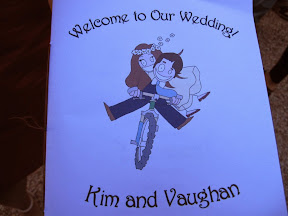 As avid cyclists they had very cool itineraries they handed out.
This is the dress we bought just before the wedding. I figure every woman needs at least one red dress. (AP: she looks smoking hot!!!!)
After dinner the wedding turned into a costume party. Here, Andrew poses with Justin and Alistair
Andrew was having an okay time.
Jonathan takes his dancing pretty seriously. We stepped outside to do some stretching. Nice work!
Andrew writes:
I think perhaps we could have put some more thought into tent placement yesterday. I say this because we were woken up by a blistering hot sun shining directly into the tent at 9am. I'm on vacation damnit! I deserve to be able to sleep in. It's too bright and too hot.
Argh, time to get up I guess. We rode into Montesquieu-Volvestre, about 2km away for breakfast. Not a lot to choose from, but the coffee was good and we just hung out for an hour or so. Then we decided to ride up to the B&B where Nick and Monica were staying.
It was only 5km, but the 300 meter climb felt really good. We pulled up to the driveway just as everyone was going for a walk. They waited while we parked our bikes and then we joined them. From the top of the hill you could see for miles around, valleys and hills everywhere. Afterwards, we lay beside the pool for another hour before heading back down the hill to get ready for the wedding.
Walking with Mat, Keira, Monica and Nick
The wedding festivities were truly unique and have made me feel very glad to have come all this way. Vaughan and Kim were married yesterday in a civil ceremony at Toulouse City Hall. Today, 80 of their family and friends gathered for a more formal ceremony and celebration of their love. The happy couple had done a lot of planning to ensure that this would truly be an event to be remembered.
It started in the afternoon with the ceremony under a large pine tree. One of Vaughan's uncles officiated. Nicks mom and dad read a poem, as did Vaughans Dad. One of his brothers also played a musical interlude on a guitar.
Everyone gathered under the pine.
Exchanging vows.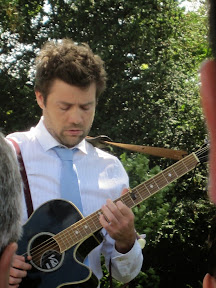 Vaughans brother plays a heartfelt tune.
While pictures were being taken, guests were encouraged to sip champagne, eat nibbles, or play a game. KV had arranged a disc golf course, croquet course and provided boules for bowling. This gave everyone a chance to make friends. While this went on for about 3 hours, it seemed like no time at all before we were being called to dinner.
Personal bubbly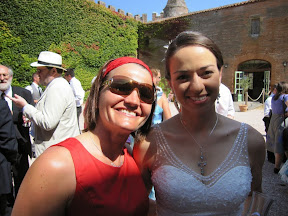 Amanda and Kim
Amanda and Vaughan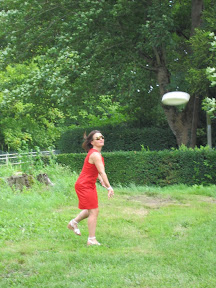 Throwing the disc with Amanda
Playing boules with Sylvia, Sarah, Monica, Amanda, Nick, Tom and Keyron. The boys won both games.
Dinner itself was dinner. Meat, veggies etc. What made it so much fun was that as soon as we sat down, someone found schematics and paper for paper airplanes (Kim is an aerospace engineer). before the head table had been announced, dozens of airplanes were zooming back and forth across the room.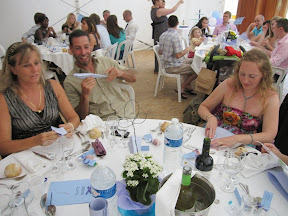 Instead of ringing your glass to get the newlyweds to kiss, you had to throw a paper airplane at a picture of "Kim Mitchell", the pop rock icon.
Then after everyone had come in and the "rules" were being explained, every guest was given a mask with a face of either Vaughan or Kim on it. While dinner was being distributed, it was arts and crafts Armageddon as we all worked to create the best mask. Amanda was picked as the best mask at our table with the blond haired Kim. Nick won best mask by a Canadian, with his Gene Simmons inspired creation.
I decimated the flower pot at our table to create this
Amanda looks good as a blonde.
I really liked it when during his toast to Kim, Vaughan mentioned how happy he was that his parents were able to attend. Apparently, there was a huge folk music festival in Sidmuth, UK that they always go to that was on the same weekend. So he decided to bring Sidmuth to the wedding. Vaughan asked everyone to look under their tables for a bag marked, "do not open". This was what was inside: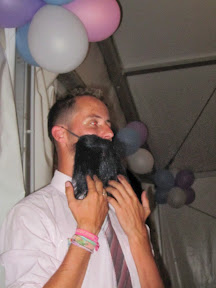 It looked better on his head. There were 2-3 at every table!
What also made dinner so memorable was the group at our table. There was Justin and Alistair, a regular pair of misfit toys. When they weren't heckling a speech, they were spraying people with champagne, covering others in glitter, or drawing lewd objects on the table. Also with us was Silvia who operates a bike touring company in Italy (www.finalefreeride.net), and Mark one of the guides. Mark and his wife rounded it out.
Table 10
Mark got popped by a popper.
Dinner wrapped up around 2300, and everyone moved into an adjacent room for the dancing. It was a costume party, and there were some pretty wild getups including an alligator, SpongeBob, and Santa's Little Helper. Kim and Vaughan supplied loads of booze, and also hired a bus to take everyone back to their B&B, or Toulouse.
Dance room decorations, the robot had working lights and was built from scratch by the groom.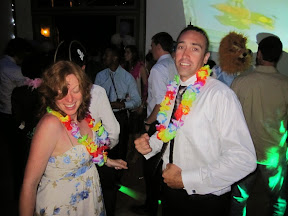 Even 5 months pregnant, Monica retained her dance-off crown.
Amanda and Frank in fancy dress.
The groom.
Lights, smoke, projector, good tunes = great times!
Amanda and I lasted until 3:30 before calling it a night. I would've kept going except I could barely walk. Dancing like a crazy man in flip-flops is not good for the feet!
I think that if Vaughan and Kim put as much into their together as they did into planning this schwingding, they will live happily ever after.
– Posted using BlogPress from my iPad
Location:Chateau de Palays, France