Friday July 29th
Toulouse to Montesquieu-Volestre
62.24 km
3:03 in the saddle
Andrew writes:
It is always nice to wake up in a warm, soft bed (I type as I lay in the tent). The hotel in Toulouse was quite nice. They allowed us to have a late checkout of 1pm. We took the opportunity to do some last minute shopping for the wedding. Amanda wanted to buy a dress, and she had to replace her sandals which had broken the day before.
Breakfast with Amanda
Shopping with Amanda is so much fun! She will try on nearly anything that I hand her. Once we got the French sizing down right, she found a few that she liked and finally settled on a nice red dress.
Dress#1 looks good to me!
Dress #2 gets the nod of approval.
I had a blast shoe shopping. With it being "buy 2, get the 3rd free" I bought myself another pair of sandals, and Amanda bought 2 pairs. I wonder how all of these open toed shoes will fare in the rain when we get back home.
Tuckered out from shoe shopping
We went back to the hotel to pack and by the time we were ready to leave it was 2pm. We had lunch near the hotel and then set out to ride where the wedding was to be held; Chateau du Palays. Advertised as being only a 45min drive from Toulouse, for us it ended up being about 55km. The ride was awesome. We were on mostly deserted backroads, or the road had bike lanes. After 3hrs, we arrived.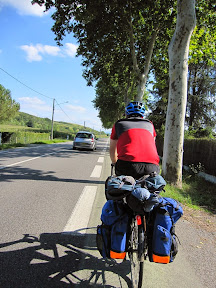 Entering Montesquieu-Volvestre
The place is beautiful. We walked around for a bit looking for signs of other people and finally found someone. More and more people arrived in anticipation of the wedding rehearsal..well actually for the BBQ which was to be held after the rehearsal. I think 3/4 of the guests were milling around, drinking beer and getting acquainted. We met a lot of people we already knew from Nick and Monicas wedding, and met quite a few new faces. Called it a night around midnight and retired to our tent.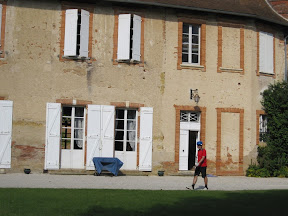 Walking around the castle
BBQ with everyone
Big day tomorrow!
Amanda writes:
I enjoyed the riding very much today and loved meeting lots of English speaking people. I have enjoyed the French language the last few weeks but it is a nice break to not have to work so hard to have a conversation. Shopping was fun.
– Posted using BlogPress from my iPad
Location:Montesquieu-Volvestre, France