Wednesday July 27, 2011
Agde to Trebes (suburban Carcassone)
109.5 km
6:06 in the saddle
Andrew writes:
What a hellish start to the day today. There was a group of kids partying in the campground until 4am or so. Didn't sleep very well as a result. Woke up to raindrops, back to sleep until 930 when it was sunny. Went to have breakfast at the campground boulangerie and they weren't able to serve anything other than bread basically.
Gold car in the background = discotheque
Rant: for 30 euro $40cdn, I expected a lot more from this campground. Being able to use the swimming pool would've been nice, except I don,t have a speedo. Then there was the issue with breakfast. I was scared to step into any of the toilettes since they were all overflowing. A group of teenagers got wasted at the bar and were being pricks to anyone nearby. And then the group partying until the wee hours. Just really left a bad taste in my mouth.
Ok, back to the day..we went to the local mall for breakfast and had nutella waffles. Also bought some sammies for lunch. Basically it was 1130 before we started riding, and we had 115km to go.
We started on the highway, but as it got busier we thought to try riding on the bike path beside the Canal du Midi. This canal runs all the way from where we were, to Toulouse. It turns out we started in the wrong side of the canal, and couldn't get to the proper side very easily. Then it started raining. I like the rain here. It lasts about 10mins. So then we started riding again, except the mud soon made it quite hard.
The Canal du Muddy and it's wonderful bike path
After an hour, we had completed a 6km loop back to where we left the highway. 1230pm and 110km to go. There were a few more quick rain showers, but mostly it was stinking hot (30). I don't like the sun. Apart from the heat and the sunburn, it also creates a wicked headwind. With 45km in the bag, we stopped for a beer and were contemplating a train ride.
Smashup derby on the D612.
After beers, the wind died down somewhat (temporarily) and we made some good distance. We finally pulled into the campsite, just outside of Carcassonne at 8pm.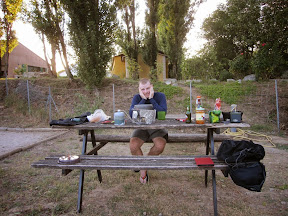 Tomorrow will be an early start so that we can tour Carcassonne before riding to Toulouse. Maybe we will see some friendly faces tomorrow.
Amanda writes:
Andrew summed it up well. Was nudged off the highway for the first time today by a semi truck; no injuries though, just nerves. I will add I really liked our dinner tonight. Pasta, sausage and sauce with some wine picked by Andrew. You can buy half liters which is awesome since we still can't polish off a bottle.
As Andrew mentioned the Canal du Midi was a bit muddy. Sure made it hard to clip in.
What's left of an old house. The church in this town was 900 years old so maybe this house was old too.
– Posted using BlogPress from my iPad
Location:Trebes, France